Pattaya – Jewel of the East Coast of Thailand
Back in the early 60s, Pattaya was a quiet, peaceful fishing village. However, American soldiers discovered its beauty as a beach paradise during the late stages of the Vietnam War. It quickly became a hot spot for rest and recreation (R & R) when these soldiers took leave or vacation.
Fast forward more than 50 years, and Pattaya is now one of Thailand's major tourist attractions. Spreading out approximately 80 miles from the Chao Phraya River, it is now home to international cuisine, luxury and budget hotels, and a wild nightlife with more bars per square inch than many places on the planet.
I was in Thailand more than four months before heading to Pattaya. Although, most men are known to go there for the beautiful women and nightlife, I was shocked to find that there were many other attractions in the city, as well.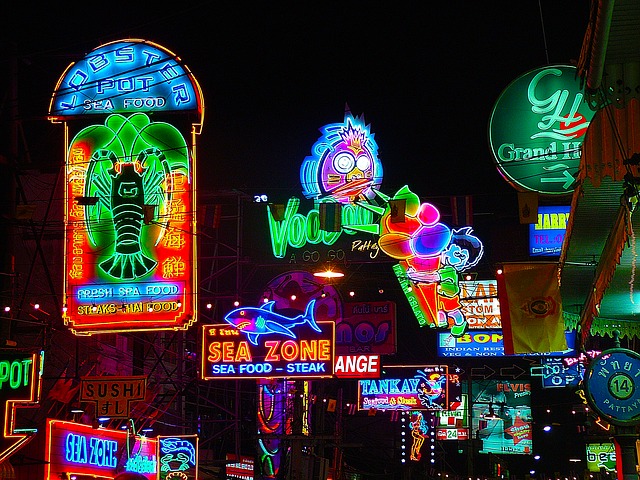 City Sections
Pattaya is divided into five sub-districts:
Buddha Hill – This sub-district is situated directly in the middle of South Pattaya and Jomtien.
Naklua – To the far north lies Naklua. It provides one of the quietest beaches in the city. You can find good, cheap transportation to other areas of the city from here.
Pattaya Klang (Central Pattaya) – Pattaya Klang heads inland to north and south parts of Central Pattaya Rd. It is very near the center part of Pattaya Beach.
Pattaya Nua (North Pattaya) – Just south of Naklua, it is located on the northern part of Pattaya Beach.
Pattaya Tai (South Pattaya) – Just north of Buddha Hill on the southern tip of the beach.
Top Sites to See in Pattaya
Nong Nooch Park – This 600 acre tropical botanical garden houses one of the world's biggest orchid nurseries. It also has many bonsai, cactus, and many other variety of flora. Like most parts of Thailand, don't be surprised to see an elephant or two roaming the park.
Walking Street – In the south of Pattaya, is a long stretch of area that is turned into a pedestrian only zone after 6 o'clock in the evening each day. It's vibrant, colorful, and loaded with nightclubs, restaurants, and go-go bars. Even if you aren't into clubbing or bar hopping, you'll love the energy and party atmosphere that is here every day.
Floating Market – Pattaya has a wonderful floating market. Here you will find food, shops, souvenirs, and the hustle and bustle of a market on water. The market is located in Jomtien, and is open from around 10 in the morning until 10 or 11 each night.
Big Buddha Hill – Locally known as Wat Phra Khao Yai, has a nearly 60 foot tall Buddha statue that overlooks the landscape of south Pattaya. You'll love the view and smell of burning incense and the tranquil feeling you get there. It is open from 6:30 a.m. – 5:00 p.m.
Go-Go Bars and Cabarets – I would be lying if I didn't say that bars and cabarets are a very big part of Pattaya's tourist scene. Cabarets have young men who look very much like beautiful young women. They are very colorful and glamorous shows, which are famous all over Thailand. I was very surprised, and I really enjoyed the show that I saw.
Pattaya Festivals
Here are a few popular festivals:
Fruit Festival – Any kind of fruit you can find in the country is showcased in May of each year. This includes a beauty pageant and other activities. This is located in Central Pattaya.
Loy Krathong Festival – This is a full moon party held in November each year to pay respect to the water. It's held on Jomtien Beach.
Pattaya Carnival – Held on Jomtien Beach at the end or beginning of the year. Expect full festivities, dancing, music, and beauty pageants.
My Personal Take on Pattaya
I am the type of person who likes to take a guide book along to get orientated with a place like Pattaya. However, once I was there and began to learn my way around, I put the guidebook down, and wanted to find restaurants and other locales that weren't in the guide.
If you're looking for good food anywhere in the city, just follow your nose, and then go there during meal times. If you find that restaurants, street food stalls or other places are full with customers, you know the food has to be good and usually safe to eat.
Hotels are about your style, comfort, and budget. Since I backpack around most countries and stay for extended periods, I'm always on a budget and stay at backpacker type places or budget hotels. In Pattaya, you'll find a range of any level or price you are willing to pay.
When to Visit
Most people like to visit Pattaya between November and February. This is when you can find the most pleasant weather. If you like it hot, head there in April or May. If you would like to experience the rainy season, June through October are the best months.